Colorado Mountain College Snow Orientation Part 2
Sorry for the late post, its damned past summer now and this post is about skiing. How I miss the snow.
Our Instructor is an experienced ski mountaineer, Her name is Vic Kerr she is small statured Scot. Serious in her manner, she had been on Denali and apparently peaks in South America, she didn't talk so much about herself.
Vic in my beaver gauntlets. The gloves became our team mascot.
Despite the vague course description in the catalogue and vague stories of snow camping form the instructors, we find out after we mount up our ski sleds this course was to teach winter expedition camping and ski hauling as if we were on a big snowy mountain expedition. The course would be conducted on 3 days on two weekends in February.
Our 4 person groups' Kifaru sled.
Each other 3 person group had sleds made from children's plastic sleds.
Emily and I were mounted up on Alpine Touring skis. She had Marker Baron bindings, which were heavy and gunked up with snow and often jammed in freeheel mode. They were a huge pain in the ass. Poor Emily. I used DynaFit bindings, which worked without a hitch. The Markers would probably hold up to hard skiing better in the long run, but for multiday trips like this, the simplicity of the dynafit design set it up for ease of use.
Dyanfit bindings.
Marker Bindings
On the first weekend route finding to establish our base camp and our next camp was part of the lesson. Hiking trails easy to find in the summer became impossible to follow in winter. This problem was compounded by the dozens of tracks left by other skiiers.
Our big ski and splitboard convoy.
On the first weekend we were shown basic skills such as setting up our shelters in the fluffy Colorado Snow. This involved stomping and more digging and extensive use of deadman type anchors. They are where you pack down a spot and bury a stick where a stake would go. They are awful. Our 4 man group slept in Emily and I's Titanium Goat tent with stove.
Titanium goat tent and stove.
Members of other groups suffering from cold and fatigue would stop by to warm up their feet and have tea.
Other groups used the North Face V25 expedition tents.
The second major set of skills we learned was setting up our kitchens and privy areas. The kitchen was a big square shaped trench dug out and piled in the center. The trench would become the standing area and the mound in the middle was the storage and cooking counter tops.
The Svea chugs on!
Each group had 2 or 3 MSR Whisperlites. Each weekend we had about a 25% failure rate.
Cooking outdoors at 15*. We would have prefered to cook in the tipi as we normally do, but people kept getting on to us about fire safety.
After we stuffed ourselves with bacon, cosmic brownies, and other fatty foods. We learned how to use WAG bags, and to pee in designated locations away from camp.
Contains a double mylar bag full of deodorant and desicant, TP for 1 or two uses and a saniwipe. This is all packed out and trashed.
On the last day of the first weekend we scouted out sites for our second weekend which would involve building snow shelters and caves called Quinzees. The quinzee design was selected by Vic because it was the only design that worked for large teams using Colorado winter snow. This type of snow is not nice "snow ball" snow where it can be packed by hand. It is like trying to pick up and pack dry sand or feathers. To combat this we stomp out a platform big enough for our 4 man group and than pile snow and pack it simultaneously. We ended up making our pile to large, so all 15 people in the course after they had finished piling snow had to come help pile our for next week.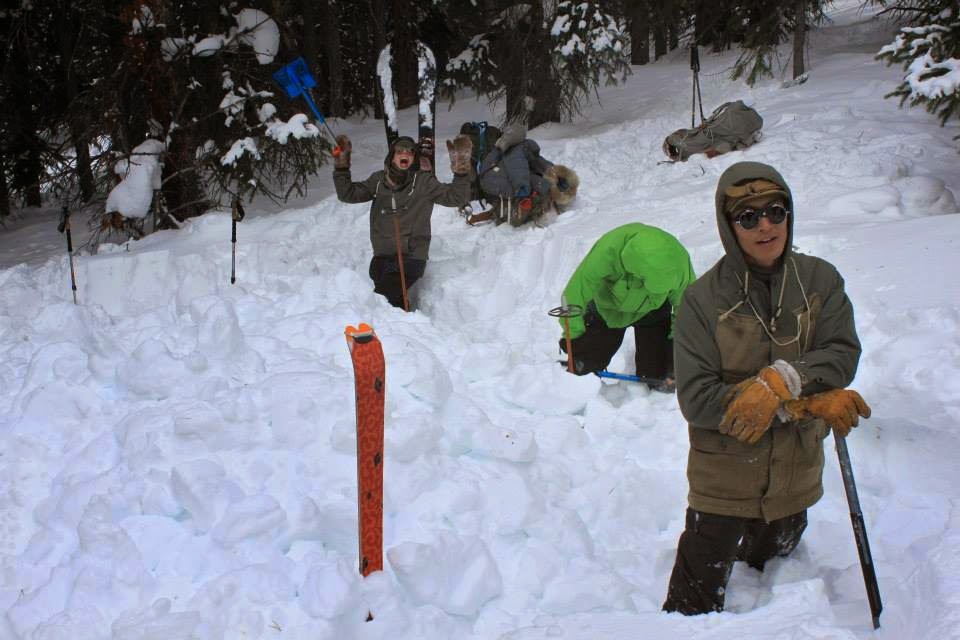 Digging is the worst. Piling and packing snow is a close second.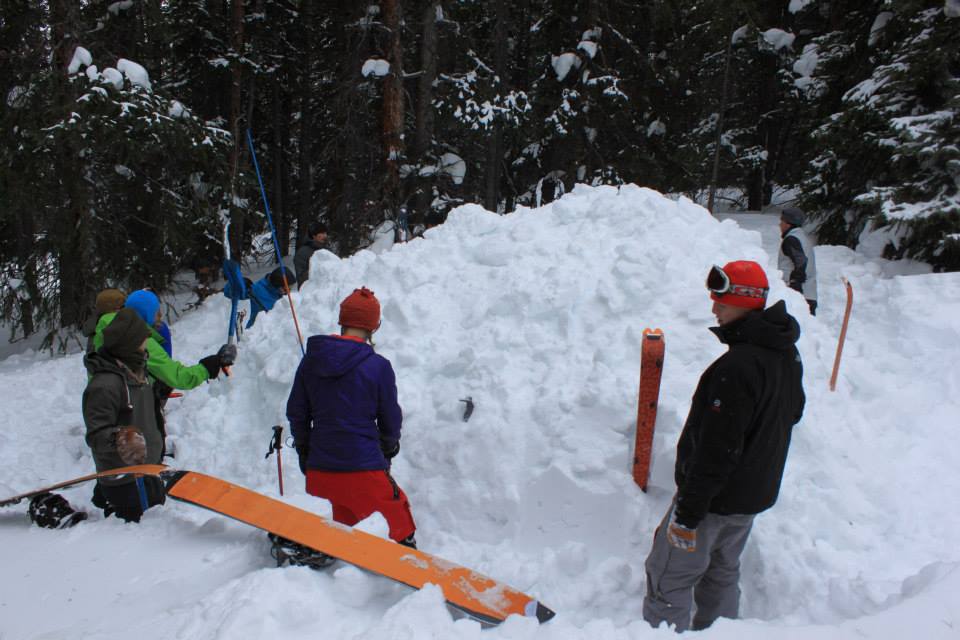 Team effort.
While Vic's method of tent platform set up which involved extensive boot and ski stomping created a very bombproof sleep surface, but was very labor intensive, it broke through several strong and weak layers of snow and required us to stop down maybe 3-4 feet. Emily and I would previously just do a cursory stomp of about 1-2 foot and our body heat inside the tent and the heat form the stove would thaw the surface snow and freeze it again creating an adequate surface to sleep on. We would not do such an extensive platform building process again.
The wood burning stove provided excellent warmth and comfort for all, as usual.
WAG bags are a major improvement to pooping in the snow especially in the future on a big mountain expedition where there are many many people pooping at base camp.
The camp kitchen we made was very nice, if it was sunny. However, in windy cold conditions such as this first weekend we would have stuck to cooking inside the tent.
The Quinzee we began to build was incredibly labor and time intensive, it is not fit as a survival shelter or even as a multiuse shelter on any sort of trip. If the snow was better like in the maritime climates it would be more appropriate for a fast shelter.